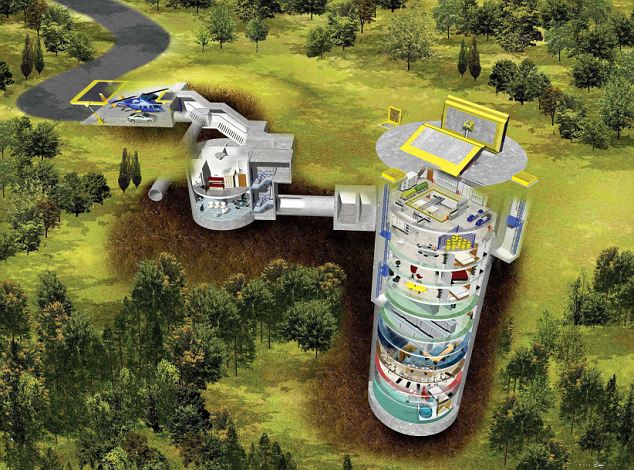 When doomsday happens, you should have a place to shelter you and your family. A place to store your supplies and a place to regroup and figure out your long-term plan.
For this article, we'll discuss two types of shelters. Your home shelter and your bug-out shelter. Your home-shelter will be your families primary shelter in case of a natural or some other short-term disaster.
In case of a more serious doomsday scenario, you will want to have a bug-out shelter ready for you and your family to get out of the middle of the chaos for someplace safer until you can figure out your plan.
Home Shelter
If you are like most of us, you live in an urban or suburban area. You are in or near a large city and you have neighbors all around you. In most natural disasters, you will be able to survive in your home if you have the supplies and have made the proper preparations.
be prepared for the types of natural disasters that will affect your area
store supplies according to the disaster
secure your doors and windows
have adequate food and water
have basic self-defense preparations at your house
have an escape plan ready to bug out if necessary
Be Prepared
You likely already know what sort of natural disasters may hit your area so be prepared for them. Make sure you have safe spots in your home appropriate to the type of disaster.
In case of earthquakes, be sure and locate spots that are structurally appropriate near an interior wall and away from windows and any large furniture. In case of hurricanes and flooding, make sure you have your supplies in a place where they will remain dry. And make sure you stock supplies for an amount of time in accordance with the disaster. For example, the average hurricane lasts for 2 to 4 days.
Secure Doors and Windows
You always want to secure your house but some disasters require it such as a hurricane or tornado. Having the forethought to pre-cut plywood to place over your windows will save you a lot of frustration and time along with a substantial amount of money when it saves your windows from the storm.
For the doors, you can obtain door sealer that you can install temporarily or permanently under the door which will help with light flooding. You also want to make sure you have adequate locks including deadbolts to protect yourself from individuals who didn't prepare as well as you.
Food and Water
You will want to prepare for the worst. In natural disasters you can likely survive them at your home but you will need to have adequate supplies to out-last the disaster. In case you need to bug out with your family, you will want to consider supplies for traveling to your bug-out destination and supplies for your bug-out shelter as well.
For more information on this please read our article Food and Water Checklist..
Defense of your Shelters
Take self-defense measures to protect you and your family but don't overdo it. In most cases, being prepared will allow you to fend off the lazies and the crazies but not the determined. In a disaster, you will be targeted simply because you are prepared. So the first security measure you should take is obscurity. Don't flaunt it.
But, no matter how hard you try, desperate people will try to take advantage of your preparation by taking your supplies and possibly injuring you and your family in the process. I call these people the lazies. The people who are too lazy to put in the effort. The other group of people are the crazies. These are the people who still need to survive but are simply not capable of thinking that far in advance. If either of these two types get the idea that you have prepared, they will want to take it from you. You can likely deal with these types on an idividual basis.
Start but not opening up. If they are persistent, then use your gun or other self-defense preparations to suggest that they leave you and your family alone.
Once a disaster is over and order is restored, you won't have to worry. Let the authorities do their jobs.
For longer-term disasters, you will have a limited amount of time once you are discovered. The first crazy/lazy you turn away will likely spread the word that you are sitting pretty. Once this happens, it is a matter of time before they organize and come back. This is the point when you want to close your house up and take your family to your bug-out location.
Do not try and defend your home against an organized group. It will be nearly impossible to do in most homes. Rather, make sure your bug-out shelter is better suited for both obscurity and self-defense.
Plan your Escape Route
When the time comes to leave your home to head to your bug-out shelter you'll know it. That moment when things go from bad to worse. You'll want to make sure your family is prepared for this moment and that they know where to go whether you travel together or you get separated. It is important to work out contingencies for the cases where you travel together or if you have to travel separately. In cases where you are separated, work out communication plans so you know how to reach each other in cases where normal communication systems no longer function.
A little fore-thought in advance will save you a lot of grief later.
Bug-Out Shelter
Your bug-out shelter will be the place you take your family when your home shelter is no longer safe. It should be far enough away from any major city to avoid the fallout from a military disaster and close enough that you can drive there on a single tank of gas.
When you do have to bug-out, you should plan for difficulties. You may have to make side-trips to gather your family before you can head to your remote shelter. There may be evacuation traffic that makes the route to your bug-out shelter more complicated than desired. Plan for the unexpected because what you don't plan for will likely be what happens.
Regardless of how long you have to travel to get to your bug-out shelter, make sure that you have plenty of gas available to fill your vehicle's tank before you go and if you need it, you should have gas to take with you.
The ideal situation is to have gas stored close to your vehicle so that if a disaster catches you off guard, you can fill your vehicle and bug-out quickly. Then, your bug-out shelter should have a supply of gas available as well to help you retain use of your vehicle while you are planning your next steps.
Your remote bug-out shelter should be in a remote location that doesn't qualify as either urban or suburban.
If you can plan for it, you should take advantage of one of the low-cost land opportunities you see in the low population spaces in between metropolitan areas. You've seen them. The locations with the signs that say something like "60 acres of land for nothing down and low payments."