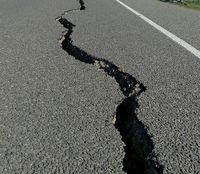 Being prepared for an earthquake means you won't be caught off guard when it happens. And there are certain parts of the country where it's not a question of if it happens but when.
Do I Need To Worry About An Earthquake?
Before we go much further, you need to know the earthquake history of your home. Go to the USGS site and lookup your state and read the earthquake history of your state and the seismic map of your state. That will give you a good idea of how frequent earthquakes are in your state along with the places that are at the highest level of risk.
To see an example of this, take a look at the seismic maps for California compared to the seismic map for Kansas. The maps are generated to show likelihood of an earthquake in a measurement defined as g which is the percentage of the acceleration of a falling object due to gravity but the easier way to look at it is blue is good, red is bad.
You can use this Earthquake map of the United States to get a general idea but if you use the links above, you can obtain a detailed map of the probability of an earthquake in your area.
Knowing About an Earthquake As Soon As Possible
While I know that you will feel an earthquake if you are in the immediate region, there may be occasions where you want to know that an earthquake is happening in another region because you have family living in the area or even when you are traveling.
The following two links from the USGS are helpful for this purpose:
How Do I Prepare for An Earthquake
This is the most important part of being prepared. During the earthquake itself survival will depend on how much pre-planning you've done. Spend the time to create a plan and share it with your love ones to make sure each of you know exactly what to do when an earthquake happens.
Talk through exactly what each of you will do depending on where you happen to be at the time. You should focus on safety first followed but regrouping with your loved ones so you can respond to the aftermath in strength.
During the Earthquake
Regardless of where you happen to be, find cover. A sturdy table or desk, interior door frames or even on the floor against an interior wall with your head covered will work in a pinch. In each place you visit on a regular basis, identify your place in advance so you don't waste time looking for safety.
After the Earthquake
After the earthquake all of your planning will come into play. Preparations such as your communications plan, supplies such as first aid kits, insurance policies to protect you financially. All of these things should be done in advance. Preparation for an earthquake will make all the difference and will be directly responsible for a fast recovery from the disaster with minimal damage to you and your loved ones.